This post is also available in:

Mt. Tokusenjo is a 711-meter-tall mountain in southern Kesennuma, home to over 500,000 azalea bushes. The hike up the mountain is an easy 2.5-hour round trip along a trail lined with radiant wild mountain azaleas (yamatsutsuji).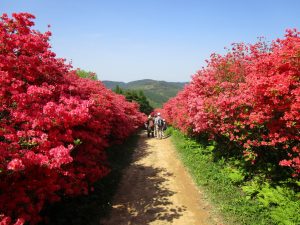 Every spring from mid- to late May, the flowers bloom to paint the whole mountain in vivid reds and magentas—a truly a breathtaking sight to behold. Come spring, details about the status of the blooms is updated online daily.
In addition to being a favorite of flower lovers, Mt. Tokusenjo is also home to the first two treehouses built by the Tohoku Treehouse Tourism Association, an organization dedicated to working with local people to build one hundred different treehouses all over Tohoku. Tom's House (treehouse #000) and Dekita House (treehouse #001) are free to explore, and either one of them would make a nice spot for a picnic lunch.
One night two-day tours with the guide will be held on 18th-19th May.
◎Participation fee: 11,980 yen /pax,
including accommodation, activities, Lunch(1time), Breakfast and Dinner (1time).
◎application deadline: Wed. 15th May 2019

You will enjoy magnificent seascapes, Trail and Trekking Tour on Karakuwa peninsula & Japan's largest azalea famous spot on Mt.Tokusenjo. Click here for  Tour information (Japanese).
Movie about Trail and Trekking Tour on Karakuwa peninsula (Japanese) :