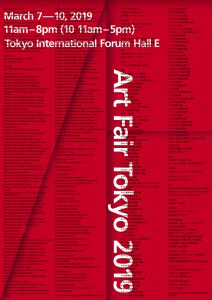 ART FAIR TOKYO is the largest art fair in Japan and the oldest in Asia, featuring a wide range of art from antiques and crafts to nihonga painting, modern art and contemporary art. The fair continues to evolve and expand as a platform for the art market, connecting past and present, Asia and the West, and presenting historically inspired artistic contexts.
◎Dates : March 7 – 10, 2019
◎Time  : 11am – 9pm (10 11am-5pm)
◎Venue: Tokyo Internatinal Forum Hall E
◎Admission Fee : 1DAY Advanced Free Pass JPY 4,000 / 1DAY Free Pass JPY 5,000
*Children below elementary school are free (They must be accompanied by adults)

Aiming to transform Tokyo in a whole city of art this March, Art Tokyo Association will organize several initiatives concurrently with Art Fair Tokyo 2019:
three satellite events taking place around the capital, the Art Street event presenting art in Marunouchi, and a free shuttle bus transporting people around the city's art centers, including the event venues. In addition, the art map publication Art Market Tokyo will be distributed to provide guidance on the city's art attractions by area.
The satellite events will take place at three places surrounding Tokyo Bay (Tennozu, Roppongi, and Haneda Airport) as extensions of the exhibitions "Future Artists Tokyo," which is held in partnership with art colleges in Japan, and "World Art Tokyo," which is organized in association with 31 national embassies. Art Market Tokyo, an art map that introduces Tokyo by area, is packed with related information such as an art market report, serving as a handy guide for people to take with them as they tour the city's various art spots and learn about the distinct scenes that exist in each neighborhood. This year, visitors to the venues can pick up a convenient set of four publications: Art Market Tokyo, the Art Fair Tokyo Official Pamphlet, and the "World Art Tokyo" and "Future Artists Tokyo" catalogues.
The exciting art month that is March in Tokyo is further enhanced by two partner events and partnerships with 15 art museums in the Kanto region.
Three Art Fair Tokyo Satellite Events (all free admission)
Art Fair Tokyo 2019 Satellite Event: Future Artists Tokyo Tennozu
This exhibition features 19 works with a focus on two-dimensional pieces such as Portrait H, which depicts familiar figures with intense contrasts of light and dark. Thirteen artists from eleven art colleges around Japan will participate in this event that opens prior to Art Fair Tokyo 2019.
◎Dates : March 5–9, 11am–7pm, March 10, 11am–5pm
◎Venue: Warehouse TERRADA T-ART HALL (2-6-10 Higashi-Shinagawa, Shinagawa-ku, Tokyo) Art Fair Tokyo 2019
Art Fair Tokyo 2019 Satellite Event: Future Artists Tokyo Roppongi
Dynamic works by twelve artists from ten colleges, including one whose appearance changes depending on the humidity and temperature of the venue as well as the flow of time, will be on display at an atrium-like open space in the heart of the city.
◎Dates : March 7–8, 9am–9pm, March 9, 11am–8pm, March 10, 11am–5pm
◎Venue: Sumitomo Realty & Development Roppongi Grand Tower station plaza (3-2-1 Roppongi, Minato-ku, Tokyo)
Art Fair Tokyo 2019 Satellite Event: World Art Tokyo Haneda Airport
An abstract painting on a folding screen by the Croatian artist Georgia Borcic, inspired by the timbre of taiko and koto traditional Japanese musical instruments, will be on display in Terminal 2 of Haneda Airport.
◎Dates :  March 5-10
◎Venue: Haneda Airport Terminal 2 2F Departures Lobby (3-4-2 Hanedakuko, Ota-ku, Tokyo)
In partnership with 15 art museums in the Kanto area, including two national art museums, Tokyo will truly transform this March into a city of art.
Idemitsu Museum of Arts / The Museum of Modern Art, Gunma / The National Art Center, Tokyo / SUNTORY MUSEUM of ART / Tokyo Opera City Art Gallery / The National Museum of Modern Art, Tokyo / Museum of Contemporary Art Tokyo / TOKYO METROPOLITAN ART MUSEUM / Toguri Museum of Art / Hara Museum of Contemporary Art / POLA MUSEUM OF ART / Mitsubishi Ichigokan Museum, Tokyo / Mori Art Museum / YOKOHAMA MUSEUM OF ART / Espace Louis Vuitton Tokyo

For further information  https://artfairtokyo.com/