Ubud Village Jazz Festival 2019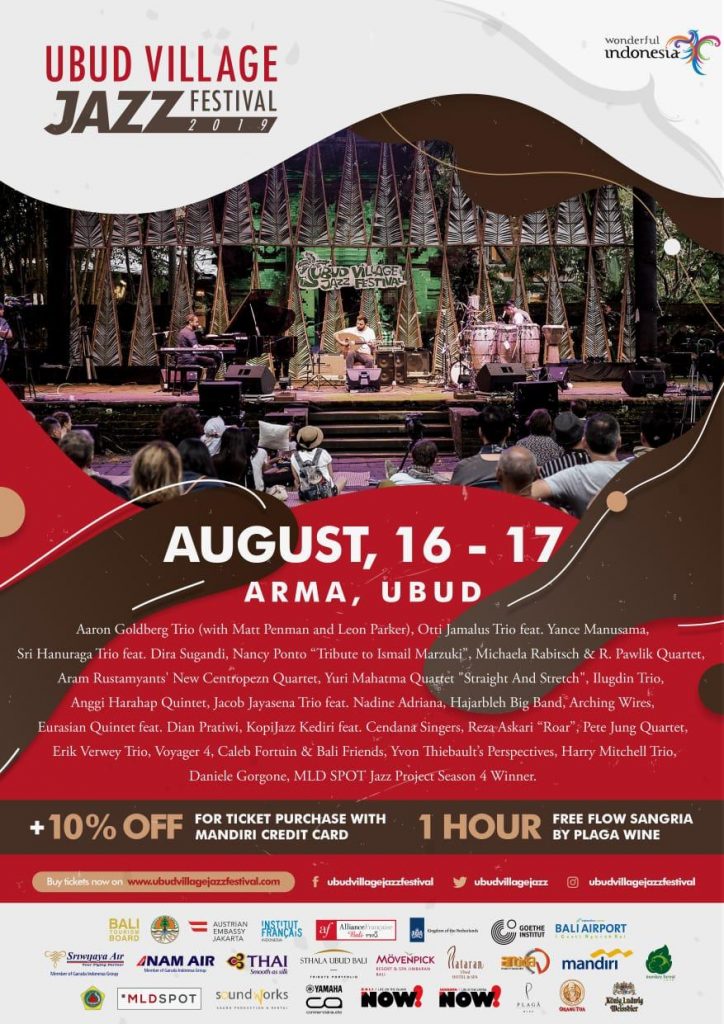 Untuk keTujuh kalinya secara berturut-turut, tahun ini Ubud Village Jazz Festival kembali hadir dan akan diselenggarakan pada tanggal 16 dan 17 Agustus 2019 bertempat dibawah kerindangan taman Arma Museum, Ubud. Sebagaimana dalam tahun-tahun sebelumnya, Ubud Village Jazz Festival akan "membelai" desa Ubud yang sudah amat terkenal dengan nuansa "bohemian"nya, dengan menghadirkan sebuah festival jazz yang amat berkelas yang menampilkan musisi-musisi jazz dari berbagai belahan dunia dengan berbagai sub-genre musiknya yang amat beragam dan kaya.

Tag line Ubud Village Jazz Festival 2019 adalah CERTAINLY! INDONESIA. Seiring dengan perayaan hari Kemerdekaan RI, Ubud Village Jazz Festival 2019 turut menyebarkan optimisme bagi Indonesia yang lebih baik dan maju. Indonesia yang mampu dan siap bersaing secara Global.

Sejak helatan pertama pada tahun 2013, UVJF selalu berkomitmen untuk juga menjadi sebuah festival yang "ramah lingkungan". Pada tahun 2019 ini UVJf juga mensuport semangat untuk " melarang penggunaan plastic sekali pakai", sebagai salah satu bentuk "keperdulian sekaligus tanggung jawab sebagai anggota komunitas yang untuk wajib perduli akan issue lingkungan", kata Anom Darsana, salah satu pendiri UVJF.

Di samping kepada para relawan dari komunitas seni dan kreatif lainnya, juga dari masyarakat Ubud dan sekitarnya. UVJF amat berterima kasih kepada Keluarga Besar Puri Ubud (Ubud Royal Family), Kementrian Pariwisata Republik Indonesia, Dinas Pariwisata Propinsi Bali, Dinas Pariwisata Gianyar, Kementrian Lingkungan Hidup dan Kehutanan Republik Indonesia, Bali Airport dan seluruh Stake Holder.

Melibatkan lebih dari 8 negara, UVJF aka menampilkan berbagai corak jazz yang demikian luas oleh para musisi baik dari Indonesia, USA, Jerman, Russia, Belanda, Italy, Australia, Perancis, Korea-Selatan baik yang sudah memiliki nama besar maupun musisi-musisi muda dengan bakat yang amat besar yang diyakini akan menjadi generasi penerus yang akan menjadi jaminan bahwa musik jazz akan selalu bergaung. Semua ini ditampilkan dalam kemasan nuansa panggung dan area festival yang sangat khas dan jarang dijumpai pada festival-festival di tempat lain, membuat UVJF telah bertumbuh menjadi salah satu event seni-budaya berbasis komunitas yang amat penting. Mendulang reputasi yang positif dari pelaku, penikmat dan pemerhati music Jazz baik lokal maupun internasional. UVJF juga didukung oleh berbagai Kedutaan Besar Negara sahabat seperti the Embassy of Austria, the Embassy of the Kingdom of the Netherlands, Institut Français d'Indonésie dan Goethe-Institute, yang telah membuat UVJF semakin percaya diri dalam menghadirkan sebuah "perayaan Jazz" yang universal ini.

Line up UVJF 2019 menjanjikan kualitas yang akan memanjakan para pecinta jazz. Sri Hanuraga Trio feat. Dira Sugandi, "the funky-swing couple" Otti Jamalus Trio Feat Yance manusama, saxophonist muda Anggi Harahap Quartet, HajarBleh Big Band, Nancy Ponto Quintet. Eurasian Quartet featuring Dian Pratiwi, co-founder UVJF, Yuri Mahatma dengan projectnya "Straight and Stretch", Drummer asal Kanada yang telah lama bermukim di Bali Yvon Thibeault "Perpectives", KoPi Jazz Kediri (Komunitas Pecinta Jazz Kediri) bersama Cendana Singers dari Kediri, Jawa Timur. Dari generasi belia akan tampil pianist berumur 13 tahun Jacob Jayasena, yang akan tampil bersama pianist wanita yang juga masih amat belia, Nadine Adriana.

Dari USA akan hadir nama besar Aaron Goldberg Trio (with Matt Penman and Leon Parker). Juga Pete Jung Quartet(Korea Selatan), Michaela Rabitsch & R. Pawlik Quartet didukung oleh Kedutaan Besar Austria di Jakarta, Harry Mitchell Trio, Arcing Wires (Australia) and Caleb Fortuin with the Bali Mates (Future Leaders Jazz Award Winner) juga dari Australia. Untuk pertama kalinya dari Russia adalah Ilugdin Trio and New Centropezn Quartet. Serta tak lupa dari Perancis, didukung oleh Institut Francais d'Indonesie, Voyager 4.

Melengkapi helatan Ubud Village jazz Festival 2019, dalam rentang waktu seminggu sebelum festival, juga akan ada berbagai rangkaian concert pre-event yang akan diadakan di Movenpick Resort, Rumah Luwih, Tanjung Sari, Vincent's Candi Dasa, Sthala Tribute Port Folio Hotel, Plataran Ubud, Garuda Wisnu Kencana (GWK Bali), Bridges, Aryaduta Bali, Bale Tudor,
Juga sebuah workshop jazz yang penting bagi musisi jazz di Bali dari Aaron Goldberg Trio bertempat di Institute Seni Indonesia di Denpasar (ISI Denpasar) pada tanggal 15 Agustus.

Ubud Village Jazz Festival 2019 didukung oleh Sriwijaya Airlines dan NAM Air sebagai Exclusive Domestic Airline Partner, Bank Mandiri dengan penawaran 10% discount untuk setiap pembelian tiket on line anda!. Spesial discount juga berlaku bagi penumpang Thai Airways dengan menunjukkan boarding pass/Royal Orchid Plus.
Free Flow of Sangria selama 1 jam dipersembahkan oleh Plaga Wine bagi pengunjung.

For more information, full schedule and line-up of Ubud Village Jazz Festival, visit our website www.ubudvillagejazzfestival.com
Follow us on:
www.facebook.com/UbudVillageJazzFestival
www.instagram.com/ubudvillagejazzfestival
www.twitter.com/UbudVillageJazz