Painting style developed in Kamasan is widely used, and inspired many traditional styles. Kamasan is village in Klungkung region, in Bali.
When we visited Kamasan, there were many places where it was possible to buy the paintings of this specific style. And besides meeting many talented artists, we learned that they're willing to teach about their skills, at least about the basics of this painting style.
The canvas they use is a rough cloth. This cloth they dip in the powdered rice porridge and than dry it on the sun. After drying, the surface is nicely polished to make it very smooth. When this process finishes, the artistic work can start.
Every painting has a story, and it's told by the figures of Wayang. The canvas is divided into several areas, so that every figure has its place before the painting starts. The planning and telling a story through the paintings is what makes this style so unique and beautiful.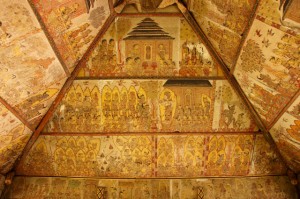 Puri Semarapura, in Klungkung is from the last Balinese Dynasty, the court that was really used until 1942. The ceiling of the court is covered with Kamasan style of painting, and makes this building very exceptional because of that.
Kamasan village, Subdistrict of Klungkung, Klungkung regency, Bali, Indonesia