In the Jakarta, there is an old part of the city, also known as Old Batavia. There are some buildings that were built in 16th Century. The atmosphere of the Old City bring us back to colonial era, when the city of Batavia was center of trading throughout of Asia.
Today, the Old City is famous tourist attraction, as there are many museums and other site-seeing objects.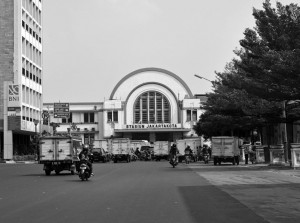 Keeping these buildings in good condition can make us proud of history and origins and make a positive impact on the education of generations to come.
The design for renovating the Station in Jakarta was done by Frans Johan Louwrens Ghijsels, a Dutchman, who was born in East Java. The station was first built in 1870, and renovated in 1926, combining the techniques of modern west and traditional elements of architecture.
Photographed by Doddy Obenk, Marcus Indra
[fbalbum url=https://www.facebook.com/media/set/?set=a.460108837452901.1073741839.396797317117387&type=3]